THE FIRST EXPEDITION (1919-1920)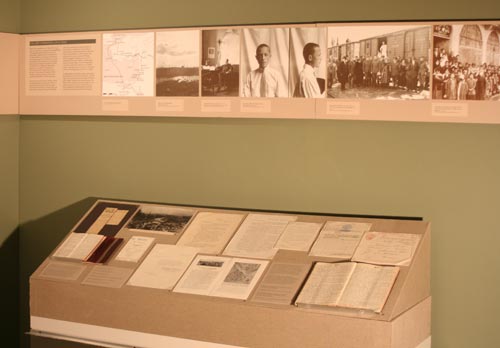 Click on objects on the picture to see larger images
More Topics
Kelsey's first expedition after World War I had four main objectives: studying Caesar's battlefields, collecting photographs of ancient sites and monuments, studying biblical manuscripts in European libraries and monastery collections, and acquiring papyri and artifacts for research and teaching. Benefactors Mary Beecher Longyear and Joseph Boyer each contributed $10,000 to fund the expedition.
The team was small: Francis, Isabelle, Easton, and photographer George Swain. With a car and a driver provided by General Connor, chief of American forces in Europe, they were able easily to see sites of Caesar's battlefields. They also saw destruction and the debris of the recent war everywhere. Armed with an introduction to Admiral Mark Bristol, American High Commissioner in Constantinople, they made their way across a shattered Europe. Bristol arranged for the group to travel in a ramshackle train across Turkey via Adana and Tarsus to Syrian Aleppo, Swain photographing everywhere and Kelsey taking note of refugee camps, orphanages, and any remains of Armenian culture. From Aleppo they pressed on to Egypt.
In Egypt Kelsey searched for papyri, purchasing from dealers in Cairo and in the Fayum. Leaving Egypt, the group traveled to the island of Patmos, where Kelsey studied ancient manuscripts in the library. After a quick trip to deliver papyri to Ann Arbor, he spent the first six months of 1921 in Rome digesting the information the team had retrieved and working at his beloved Pompeii.
Kelsey also acted as a news correspondent, wiring articles on his experiences back to the States. In one such article published in the New York Times, "Wrecked Tanks Where Caesar's Legions Fought," he described the state of World War I battlefields in France, comparing the devastation of modern warfare to that of wars fought by Caesar in the same area. Almost everywhere he traveled Kelsey wrote about contemporary events, humanitarian issues, and other topics for readers back home.