VILLA OF THE MYSTERIES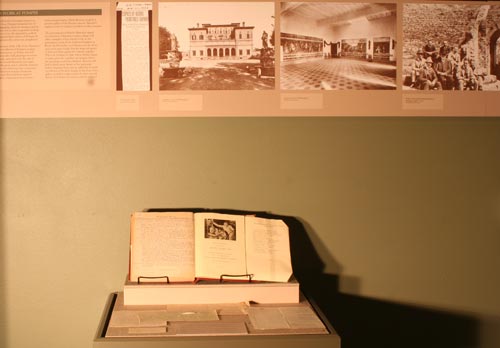 Click on objects on the picture to see larger images
More Topics
From the time of his first European sojourn in the summer of 1893, Pompeii remained one of Kelsey's most engaging scholarly interests, and he visited the ancient site as often as possible to keep up with new discoveries. In 1909 the discovery of the Villa of the Mysteries a short distance northwest of Pompeii created an international sensation, as Kelsey was well aware. The spectacular wall paintings of women performing rituals associated with the cult of the god Bacchus (Greek Dionysus) saw rapid publication in the press and in scholarly journals.
In 1924, Kelsey, who had long been concerned about the deterioration of many Pompeian wall paintings once they had been exposed to the atmosphere, commissioned an Italian archaeological artist, Maria Barosso, to paint a precise replica of the Bacchic murals. Barosso chose watercolor as her medium because she was familiar with it and thought it best able to capture the ancient mural's subtleties of color and tone. Each section is made on separate sheets of paper in three registers that were in turn subdivided into smaller panels of manageable size. She used the finest materials available, importing linen-backed paper from Germany and Windsor & Newton paint from England. Although the upper and lower decorative borders were executed at her studio in Rome, she painted all of the central scenes directly from the frescoes themselves in the best light possible. The entire project was finished in just over 18 months, but work was intense: in a letter to Kelsey she wrote, "The work is unending, every day for the whole day, every day of the week, in that oppressive house . . . But the work has turned out splendidly."
The government of Benito Mussolini staged an exhibition of Barosso's replica, along with other examples of her artistic work, at the prestigious venue of the Galleria Borghese in Rome. In December 1926 Kelsey saw the show and noted approvingly that the king and queen of Italy had both signed the visitors' register. When he returned to Ann Arbor, Kelsey began to make plans for a gallery on campus where the paintings would be exhibited. Kelsey died before his vision could be realized.
In 2008, the Kelsey Museum received a generous grant from the Institute of Museum and Library Services to conserve the Barosso watercolors. The watercolors are rare, beautiful works of art, and the conservation project to preserve them was an impressive multidisciplinary effort involving specialists in conservation, science, education, art history, and archaeology. Visitors to the Kelsey Museum can now view them in a special room that recreates Room 5 of the Villa of the Mysteries.
To learn more about the conservation of the watercolors, download a 40-slide PowerPoint presentation or view a 21-minute Flash video.
Brandon S. Green