Winter in Ann Arbor

Khaled al-Saa'i (born 1970) Winter in Ann Arbor Painted in Ann Arbor in 2002 Natural ink, tempera, and gouache on paper University of Michigan Museum of Art, 2003.1.366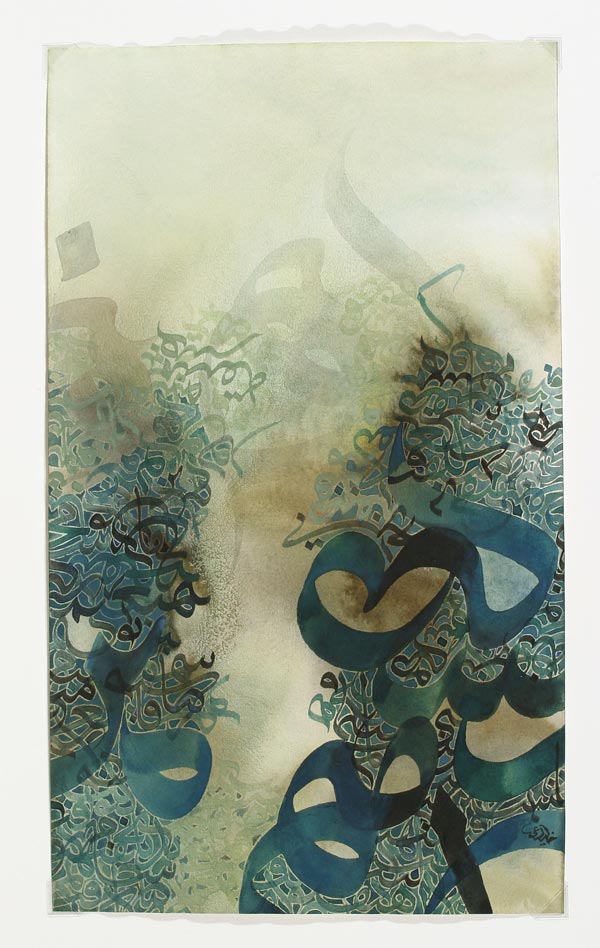 As the art of beautiful writing, calligraphy is not just a means to convey information. It has been admired for its form and beauty from medieval times to today. Contemporary artists have used the Arabic alphabet to produce calligraphic paintings, calligraffiti, and abstract formal compositions.
In this painting, Syrian-born contemporary calligraphic artist Khaled al-Saa'i constructs an ethereal composition by layering and juxtaposing Arabic letterforms in varying sizes. He plays with space and light while also deconstructing words into letters and rhomboids. The painter transcends legibility and instead focuses on the form of the letters and the oral effects they generate. For example, the repeated soft letter ha produces the sound of sighing or exhaling. Suggestive of breathing through mist, the ha is appropriate for this painting, which al-Saa'i made during his 2002 stay in Ann Arbor. Through letterforms, their oral effects, and crisp hues, he attempts to convey his memorable experience of a chilly and snowy—yet soothing and picturesque—Michigan winter.
Bibliography: Porter 2006, 151–187; Naef 2003, 168–171; and Schimmel 1987.
Return to the Show