About the Exhibition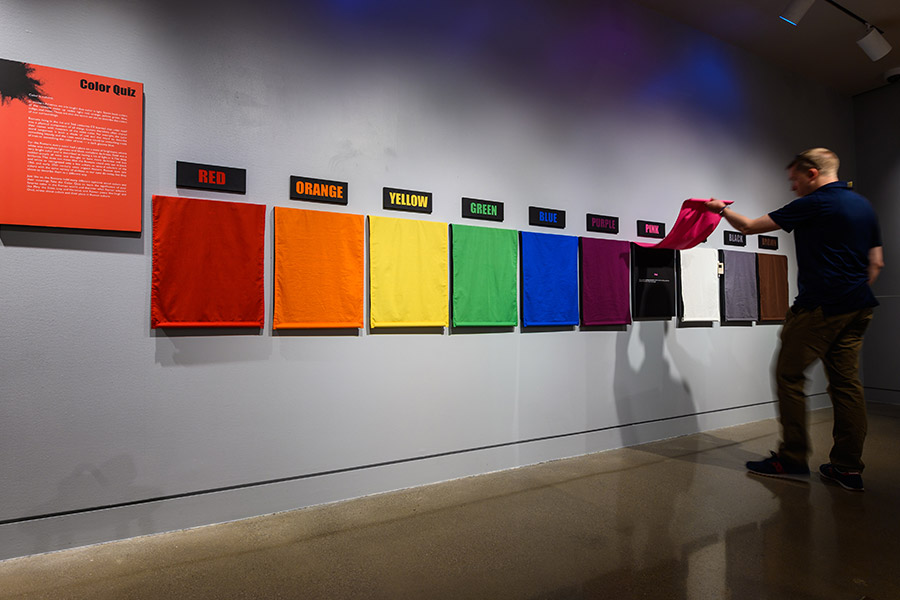 The special exhibition Ancient Color is on view at the Kelsey Museum of Archaeology from February 8 to July 28, 2019.
Interview with Co-curators Catherine Person and Caroline Roberts
What are the goals of the exhibition?
We have one major idea we want all visitors to take away from this exhibition: that the Roman world was a colorful place. It's something so simple, but so easy to ignore. A lot of Roman sculpture and architectural fragments that fill museums are now mostly white or earth tone in color. Any paint that may have covered them is no longer easy to see. This fact gives many people the wrong impression of ancient Rome.
But through the investigative work of conservators and conservation scientists, we know that many Roman artifacts were originally covered in a whole variety of colors. So we would also like visitors to learn more about how modern science can help us better understand what the Roman world looked like.
We want visitors to see how much effort the Romans put into acquiring and making color. Pigments and dyes were gathered, processed, and traded around the Mediterranean. Many of the colors we take for granted today would have been very costly and difficult for a Roman to obtain and use. But they did it anyway, which is amazing.
Interview continued on the Kelsey Museum website.
Exhibition Opening Discussion
Watch the panel discussion Investigating Ancient Color, organized by the Kelsey Museum on March 20, 2019. With archaeologist Hilary Becker (State University of New York), conservation scientist Greg Smith (Indianapolis Museum of Art), art historian Mark Abbe (Lamar Dodd School of Art at University of Georgia), and conservation scientist Christina Bisulca (Detroit Institute of Arts).
Acknowledgments
We would like to thank the Kelsey Museum staff and curators for all their help and support for this exhibition. We would especially like to thank Christina Bisulca and Aaron Steele at the Detroit Institute of Arts, Gregory D. Smith at the Indianapolis Museum of Art, Mark Abbe at the Lamar Dodd School of Art at the University of Georgia, Hilary Becker at SUNY Binghamton, Celia Schultz and Linda Gosner at the University of Michigan, Ann Arbor fiber artist Ann Asplund, and Kelsey Museum docent Dottie Sims.
Image credits: Alethe, AlMare, Ann Asplund, Dave Hill and Margie Kleerup, Klaus Hoffmeier, Lewis Hulbert, Matthias Kabel, Patricio Lorente, Sarah Rabe, Gregory D. Smith, Fulvio Spada, Aaron Steele, Randal Stegmeyer, Amaris Sturm.
Catherine Person and Caroline Roberts