Gold Double Pearl Pendant Earrings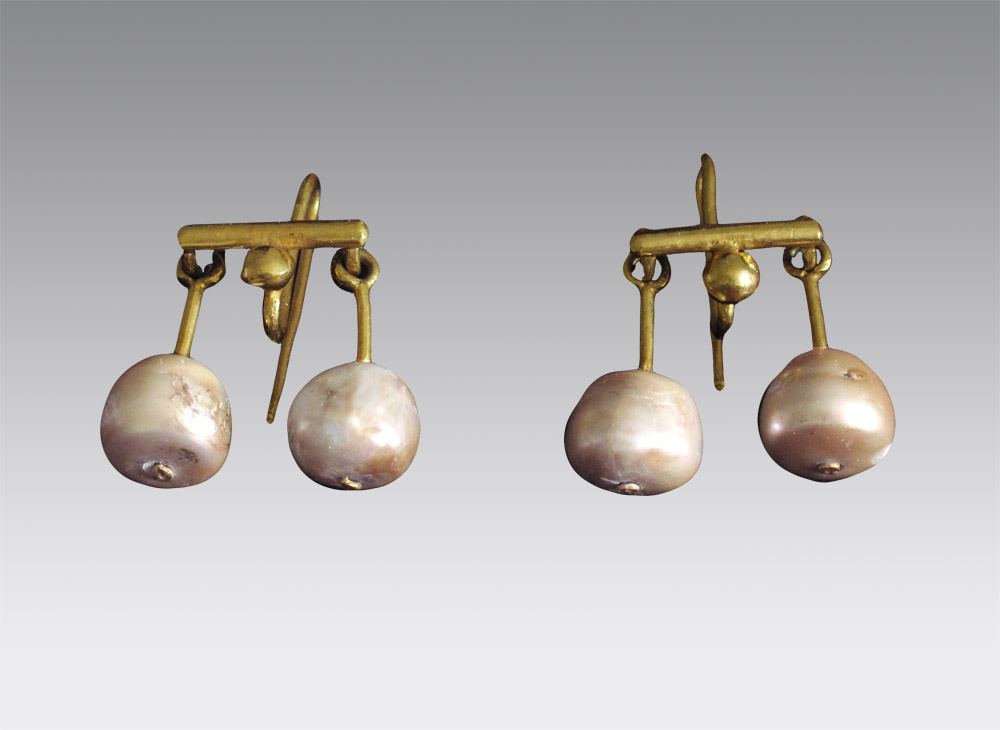 x
Gold Bracelet with Relief of
Venus Pompeiana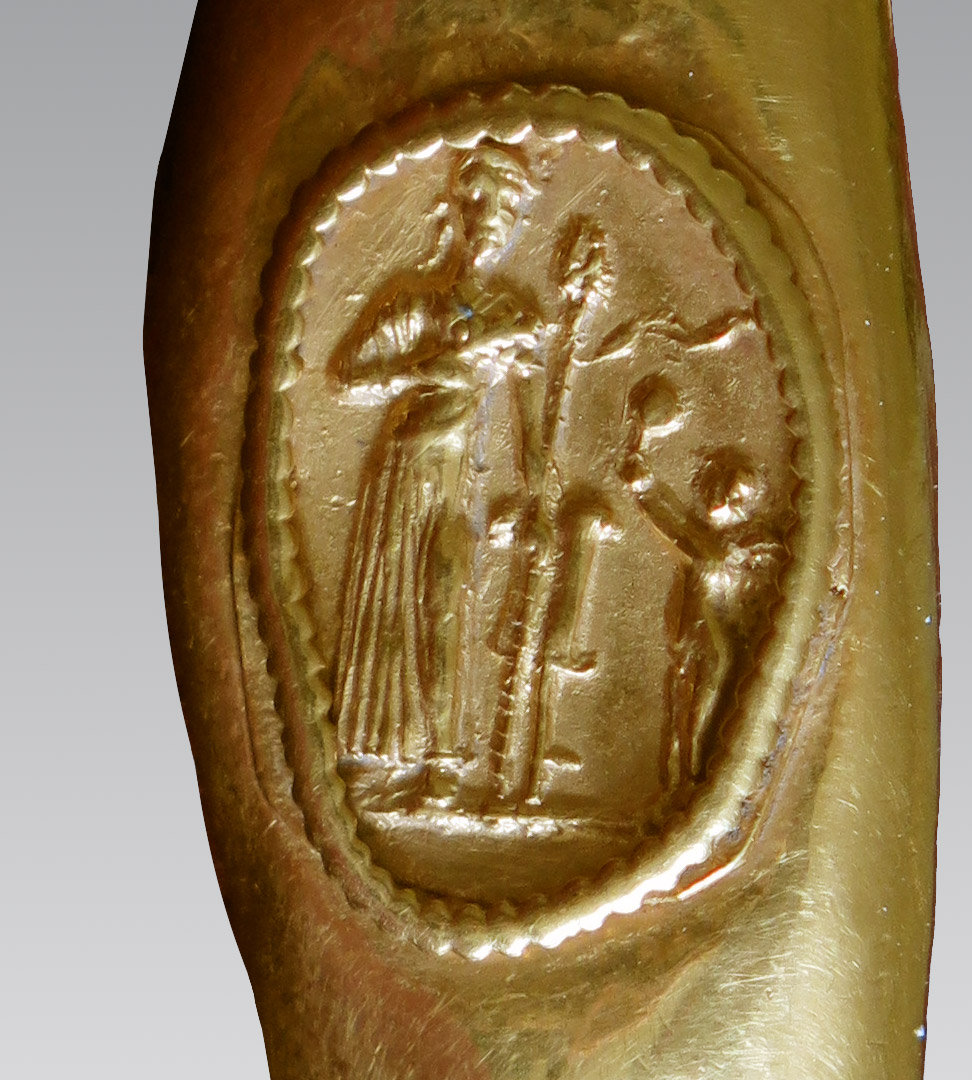 x
Silver Spoons (
Ligula

and

Cochlearium

)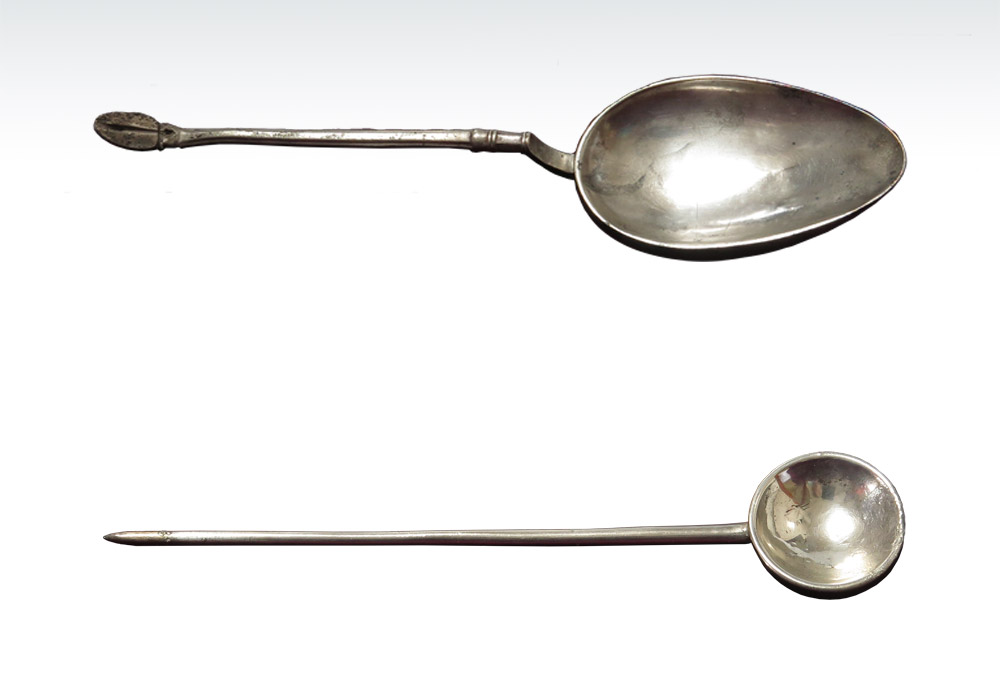 x
Wealth and Luxury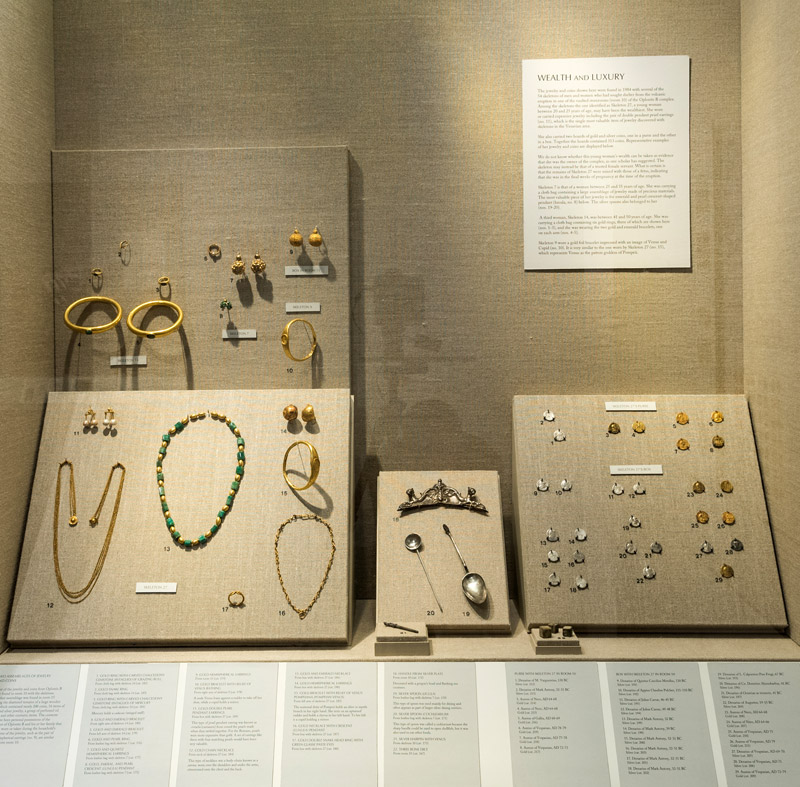 The jewelry and coins shown here were found in 1984 with several of the 54 skeletons of men and women who had sought shelter from the volcanic eruption in one of the vaulted storerooms (room 10) of the Oplontis B complex. Among the skeletons the one identified as Skeleton 27, a young woman between 20 and 25 years of age, may have been the wealthiest. She wore or carried expensive jewelry including the pair of double pendant pearl earrings, which is the single most valuable item of jewelry discovered with skeletons in the Vesuvian area.
She also carried two hoards of gold and silver coins, one in a purse and the other in a box. Together the hoards contained 313 coins. We do not know whether this young woman's wealth can be taken as evidence that she was the owner of the complex, as one scholar has suggested. The skeleton may instead be that of a trusted female servant. What is certain is that the remains of Skeleton 27 were mixed with those of a fetus, indicating that she was in the final weeks of pregnancy at the time of the eruption.
Skeleton 7 is that of a woman between 25 and 35 years of age. She was carrying a cloth bag containing a large assemblage of jewelry made of precious materials. The most valuable piece of her jewelry is the emerald and pearl crescent-shaped pendant. The silver spoons also belonged to her.
A third woman, Skeleton 14, was between 41 and 50 years of age. She was carrying a cloth bag containing six gold rings, and she was wearing the two gold and emerald bracelets, one on each arm.
Skeleton 9 wore a gold foil bracelet impressed with an image of Venus and Cupid.