A Taste of the Ancient World:
Acknowledgements
---
A Taste of the Ancient World was designed to form part of the 1996 Fall theme semester on Food at the University of Michigan. This exhibit is the result of cooperation between Michigan undergraduates and the staff of the Kelsey Museum of Archaeology, to whom special thanks are due. Funding for this project was made possible through the Center for Research on Learning and Teaching.
Course Instructor: Professor Sue Alcock
Project Assistant: Melanie D. Grunow
Photography: Nathan J. Garcia
Web Page Design and Production: Clay Blake-Thomas and Melanie D. Grunow
Students enrolled in Classical Civilization 452: Food in the Ancient World studied the objects displayed in this exhibit and wrote the labels.
David Adelstein
Lucia Afonso
Thomas Almeida
Susan Basler
Clay Blake-Thomas
David Brady
Eric Burden
Lynda Ceballos
Kenneth Chiu
Sarah Chobanian
Jaclyn Cohen
Sarah Cyganiak
Snehal Desai
Aileen Diamond
Franny Elson
Laura Ericson

Karen Fauman
Amanda Froede
Julius Gajdos
Brian S. Grant
Basil Harris
Mitchell Hough
Sarah Kemler
Robert Kerekes
Jane Kim
Kristen Klein
Jessica Leventhal
Heidi Lichner
Jon Mallin
Dawn Marsh
Kelly McCready
Rachel A. Murphy
Brenda Natoli

Jill Nicholson
Agatha Obertynski
Shaio-Yuan Pan
Athanasia D. Panopoulos
Jennifer Pomeranz
Zachary Raimi
Jeremy Salvatori
Lisa Scanlon
Anish Sheth
Jill Soniker
Jacquelene Steel
Ritu Tuteja
Sarah Undy
Betty Vair
Michael Vaughn
Jonathan Von Samek
The background of these pages is derived from KM 70.1.1, a 5th century BC kylix (drinking cup).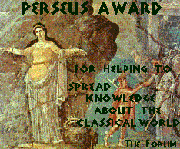 ---