INTERESTS AND ENTERTAINMENT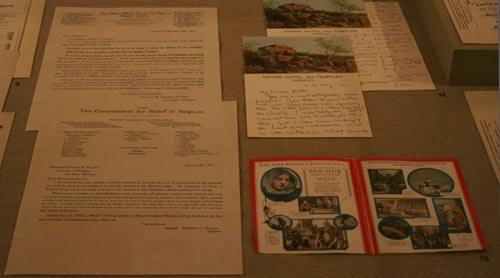 Click on objects on the picture to see larger images
More Topics
Three interests dominated the Kelseys' lives: the church, music, and literature. Musical evenings at home were frequent: Isabelle played the piano, Ruth the violin, and Francis and Charlotte sang. Concerts were a ttended as a matter of course. The children read (the Bible, the Iliad, Shakespeare, for example), and performances of visiting theatrical groups were eagerly awaited.
Kelsey was a devout Presbyterian, attending church regularly with family members and participating in national discussions about the relationship between church and university. Religion was paramount in Kelsey's life, and his Christian beliefs guided him in everything he undertook. His ethical principles were put into practice in his relief work following World War I, both in Belgium and in the Near East.
Beyond their children, religion, music, and literature, Francis and Isabelle shared a deep interest in art, and they visited many museums on their various travels. At Michigan, Kelsey advocated for establishing a Department of Fine Arts, the precursor to the present Department of the History of Art, and for building a museum of art along with structures to house a school of music and an auditorium.