Aphrodite »
Aphrodite with Upraised Arms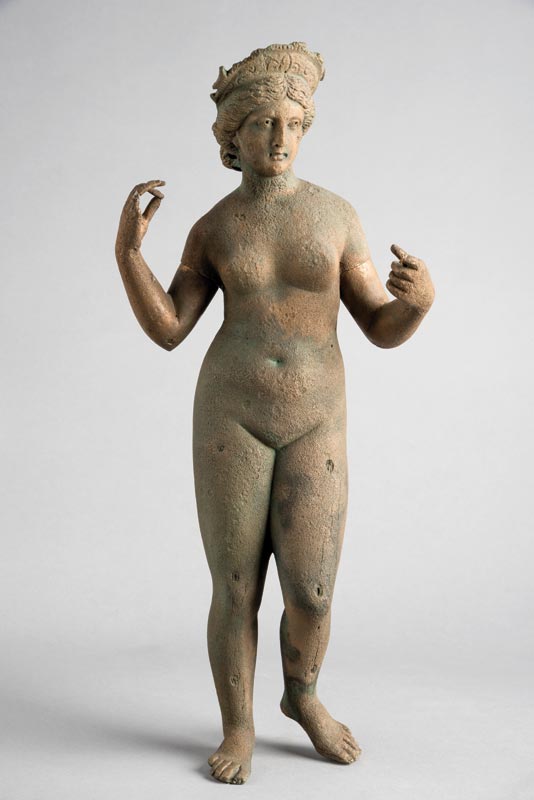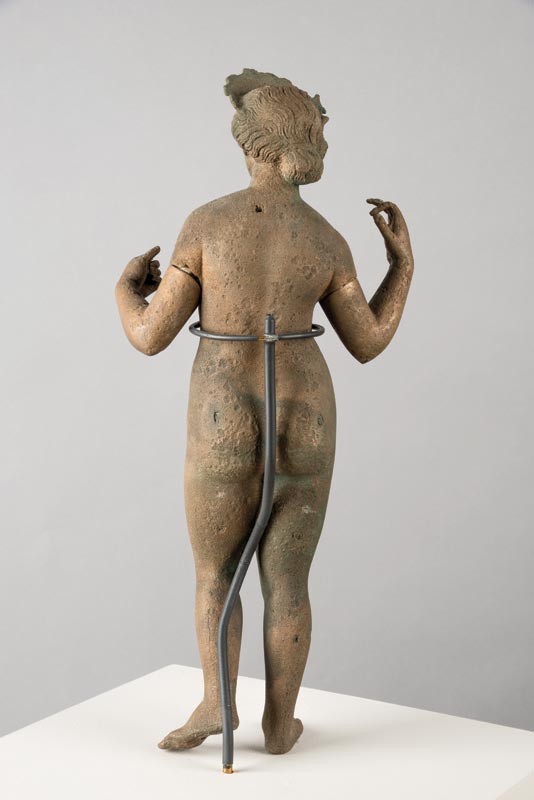 Aphrodite with Upraised Arms, KM 10728
Bronze
2nd–4th century AD
Karanis, House C418, Room H
H. 0.34 m, W. 0.143 m, D. 0.060 m
University of Michigan Excavations at Karanis 1933; field number 33-C418H-C
Description
Statuette of standing nude female with upraised arms. Upper diadem and two fingers of right hand missing. Hollow cast bronze, with arms cast separately and attached. Elaborately modeled diadem of Hellenistic style atop classicizing hairstyle of centrally parted loose waves gathered into neat bun at back. Large, deep-set eyes with settings for original inlaid details; elongated face and nose; full cheeks and jawline. Arms uplifted and bent at elbow, with fingers curled and thumb and forefinger almost touching. Soft, ample body. Contraposto pose with thighs together, left leg bent at knee, and left heel raised from ground.
Commentary
This statuette was found with its arms attached when it was excavated in the 1930s, but chemical cleaning resulted in the detachment of the arms and loss of detail around the arms and hair ornament, as shown in pre-cleaning photographs of the object. The arms are now attached with modern wooden dowels in a slightly varied position. Hutchinson (49) suggested that the position of the arms and pose of the hands indicate that the figure was holding a spindle and distaff, long necklace, or fillet and thus hearkens back to the Aphrodite Pseliumene type of Praxiteles.
At least three medium-sized bronze sculptures of Aphrodite with upraised arms were found at Karanis: the two included here as well as one now in the Museum in Alexandria. All three were found in the same area on the western side of the hill of Karanis. The Alexandria piece was a surface find, but KM 10728 and KM 10888 were found in houses with coin hoards dated to the mid–late 3rd century. Bronze Aphrodites, presumably statuettes like the Kelsey examples, are mentioned in a select number of 2nd- and 3rd-century AD marriage documents from Egypt (Burkhalter). These bronze figurines formed part of the dowry and were presumably venerated and displayed in household contexts as symbols of conjugal happiness and domestic well-being.
Previously Published
V. Hutchinson in E. Gazda, ed., Guardians of the Nile: Sculptures from Karanis in the Fayoum, exh. cat. (Ann Arbor, MI: Kelsey Museum of Archaeology 1978) 48, no. 40; F. Burkhalter, "Les statuettes en bronze d'Aphrodite en Égypte romaine d'après les documents papyrologiques", Revue archéologique (1990) 51–60, fig. 3.